Dr. Burton Webb presenting for the UPIKE Alumni Association.
Credo is excited to announce Dr. Burton Webb, president of the University of Pikeville, as the 10th Annual Courageous Leadership Award recipient. Awarded at Credo's annual appreciation dinner at the CIC Presidents Institute, this milestone tenth Courageous Leadership Award goes to a deserving recipient who has led their institution collaboratively, bravely, and to transformative success—even through a global pandemic and intense social upheaval. For these reasons and many more, we invite you to celebrate Dr. Burton Webb as the 2023 Credo Courageous Award recipient. 
A Transformative Leader 
Dr. Burton Webb assumed the presidency of the University of Pikeville, or UPIKE as it is known on campus and throughout the region, in January of 2016. When he was unanimously selected by the Board of Trustees, the Chair of the Board said this of his leadership: 
"Burton has the vision and leadership skills to lead us into the next decade. He understands the role the university will play, not only in the future development of education in our region, but in the future role of economic growth for our community." 
Indeed, the transformation UPIKE has experienced under Dr. Webb's leadership has been and continues to be extraordinary. It is hard to point to another institution so committed to serving its local region and communities, especially diving into a variety of complex rural health issues, drastically expanding the ability of the institution to meet those needs, and continually increasing the success of their students.  
Dr. Webb high fives some students after a campus event.
Dr. Burton Webb with his wife Dr. Kay Webb have together spent their careers following their personal, connected vocations of serving historically under-resourced and marginalized students and communities. It is neither arbitrary, nor a coincidence that Dr. Webb assumed his first presidency at UPIKE.
The University of Pikeville, founded in 1889 by Presbyterian ministers in northern Ohio and Kentucky, had a singular mission: educating children in Appalachia. UPIKE remains firmly committed to that mission 133 years later. Dr. Webb has made it his mission at UPIKE to augment the founders' mission, increasing access, funding, and services not just for the students at UPIKE but for the whole extended community and the Appalachian region. 
One way UPIKE reaches locally to the community is by extending the Pikeville Promise. Kentucky residents are encouraged to attend their local university through the extension of this promise, which waives tuition for all academically strong, full-Pell eligible students; more than 60% of UPIKE students are Pell eligible. Another way the university serves students is by promising all students free textbooks for their classes from undergraduate English to the advanced Optometry College textbooks.
Dr. Webb has worked tirelessly to ensure that the Pikeville Promise is reachable to local students, and that UPIKE continues to serve the region and broader Appalachian community in a variety of ways, even through a global pandemic, a pandemic of racism and injustice, and an atmosphere of unknowns.  
As floods ravaged the Kentucky region this recent fall, Dr. Webb worked beside the UPIKE community—students, faculty, staff, and alumni—as they extended care to the county and surrounding areas. The campus served as a hub for the Red Cross to serve the region, building on existing structures of aid.
Dr. Webb is known around campus as the president who knows everyone's name and cares about their story. Famous for his open office hours, anyone on campus is welcome to stop by for a beverage and to say good morning and chat with the president. Dr. Webb is an accessible leader. From open office hours to openness of heart, mind, and spirit for new, innovative, fresh ideas, Dr. Webb's leadership is not only personable, but brave and empowering to those who lead beside him. Dr. Webb knows that if UPIKE is successful, it is not due to his own successes, but rather to the collective risks, obstacles, learning journeys, and rewards of the entire community, each doing their part in the shared ownership of moving the mission forward.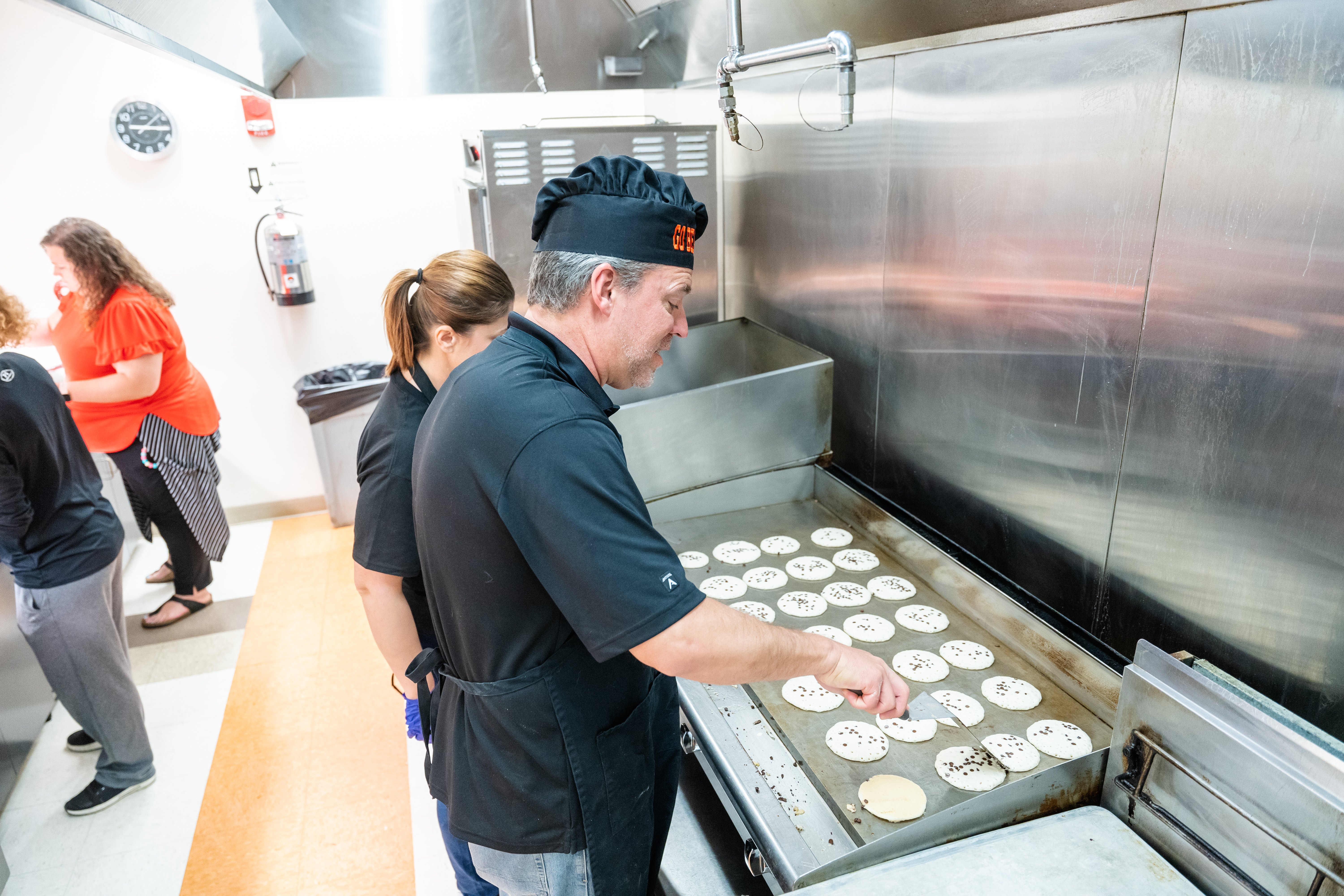 Dr. Burton Webb wears a chef's hat and prepares pancakes with the faculty and staff of UPIKE. 
Mathys J. Meyer, Assistant Provost of Retention and Professor of Biology said this about Dr. Webb:

"Dr. Webb is the kind of leader that wants you to bring the most out there—the most innovative idea—and he always says, 'Yes; do it.' Dr. Webb empowers those around him to take risks, and there is no-failure mindset; only a mindset of growth, trust, learning and pivoting. It's what makes working with him and for him a wonderful experience."
Dr. Webb has led UPIKE through these times of uncertainty not only to better serve its existing students, but to grow the student body and secure some noteworthy gifts.  
Some examples of the milestones UPIKE has accomplished under Dr. Webb's leadership include a recent $25 million gift—the largest in the institution's history—to open UPIKE's College of Dental Health. Currently there are only two dental schools in the entire state of Kentucky. This dental school will not only expand the medical offerings of the university, but also increase healthcare access for thousands of Kentuckians who will benefit from the services of the college and its graduates.  
Additionally, the U.S. Department of Commerce announced a $4.4 million competitive grant awarded to UPIKE by the Department's Economic Development Administration (EDA). Nearly 14 acres of land at the Kentucky Enterprise Industrial Park is allotted for building the UPIKE Ag-Tech Innovation Center of Excellence. The grant is being matched with $5.75 million in local funds, totaling more than 10 million dollars. This effort unites the university with both the public and private sector to provide educational opportunities for UPIKE students and to bolster the local community and economy through Eastern Kentucky and Central Appalachia.  
Along with the College of Dental Health and Ag-Tech Innovation Center, the university is also planning for a new athletic complex to be named "Bear Mountain" after the school's Bear Mascot—and the beautiful Kentucky mountain it will be nestled in. The complex will include football, baseball, softball, soccer, track & field, tennis, and archery, along with panoramic views.
Beyond these developmental milestones, UPIKE in 2022 announced their largest class in the school's history after graduating 400 students the same year. And no matter the current fundraising campaign or his busy travel schedule, Dr. Webb's more locally known accomplishments include each semester when he puts on a chef's hat, and with the faculty and staff of Pikeville, prepares a pancake meal for students who are studying into the late hours of the night. Serving flapjacks and encouraging words, Dr. Webb is the kind of accessible, kind, caring, genuine leader that makes everyone around him feel like they belong and they are important, whether they are donating a large sum of money or preparing for their optometry finals.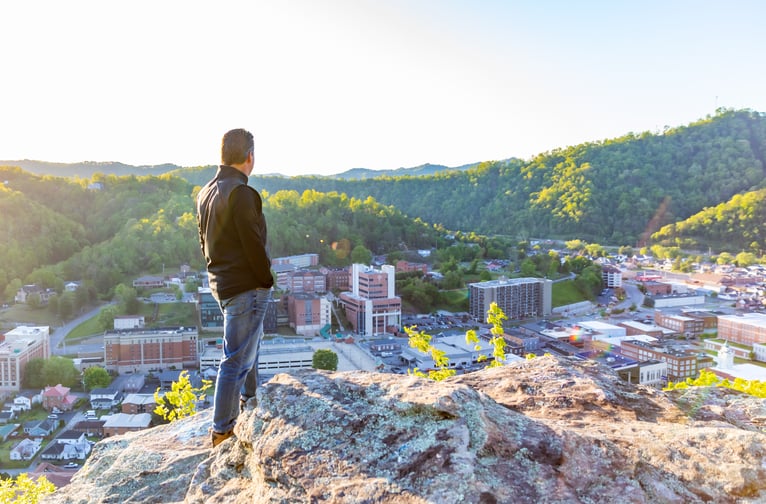 Dr. Webb looks out over the campus and surrounding panoramic view.
Johnny Fleming, associate professor of mathematics at UPIKE, said this about Dr. Webb:
"From his unique ability to deliver messages in lines of thoughtful prose to his contagious smile and positive energy, Dr. Burton Webb is an exemplar of the servant leadership model. He is a visionary, an advocate for students, families, faculty, and staff, and his words and actions are daily reminders of his commitment to serving those around him. Our campus and community are thriving due to initiatives and projects he has courageously and vigorously spearheaded. I can genuinely say that I am a better educator because of his influential passion and zeal."
Lori Werth, Ph.D., Provost University of Pikeville said this:
"Dr. Burton Webb's approach to transformational leadership encourages, inspires, and motivates our students and employees in profound ways. His innovative spirit has empowered our community to create changes that have positioned us for success. President Webb works to build a high-performing organizational culture that is foundational to a thriving workplace and one that cares deeply for student success in Central Appalachia. His love for people, their lives, and our community encourages us each day as we strive to serve."
Credo's Joretta Nelson has worked with Dr. Webb on Moving The Needle, a multi-year student success and retention project and has this to say about partnering with him:
"Since the beginning of our work together, I saw clearly Burton's deep belief in what was possible for Pikeville's students. Burton's leadership is motivated by place-based partnerships to lift, empower, and support the people and communities of Appalachia. His leadership is a balance of art and science: empathy and holistic thinking matched with data, systems, and continual proof of concept."
As Dr. Webb is known to say, "It's a great day to be a Bear!" And it's a great day to celebrate you, Dr. Burton Webb.
---
The Courageous Leadership Award is presented annually, and the award recipients demonstrate one or many of the following achievements as a part of their institutional leadership*: 
Minimum five years in the presidential seat at their institution. 
Visible champion and advocate for students and their success. 
Proven champion of inclusive leadership. 
Articulation and successful execution of a compelling and clear vision for their institution. 
Proven track record of fostering collaborative relationships both inside and outside of their institution. 
Significant institutional growth across one or more key indicators such as enrollment, fundraising, and retention. 
Proven innovation in operations, academics, net revenue, strategic planning, student success, or other critical areas. 
Strategic, game-changing planning for and investments in campus spaces and places. 
---
2023 | Burton Webb, University of Pikeville
2022 | Tiffany Franks, Averett University
2021 | Mary Hinton, Hollins University
2020 | Tom Flynn, Alvernia University
2019 | Amy Novak, Dakota Wesleyan University
2018 | Daniel Elsener, Marian University
2017 | Kim Phipps, Messiah College
2016 | Mary Meehan, Alverno College
2015 | Mark Lombardi, Maryville University
2014 | Joanne Soliday, Credo
---
*To be considered for the Credo Courageous Leadership Award, a leader need not be a current or past Credo client.
All photographs are courtesy of University of Pikeville.