The Center for Monster Studies opened at UC Santa Cruz in 2020.

The center's work focuses on how monsters operate in culture, including using monsters to study pop culture, religion, and politics.

The center also offers classes, enrolling hundreds of students in courses focused on the study of monsters.

Politicians, including Florida Gov. Ron DeSantis, have singled out monster studies in arguments against student loan forgiveness.
---
Vampires, zombies, werewolves, and other monsters are more than fictional creatures that rise into our collective consciousness during spooky season. They can also be cultural ciphers that, under examination, can reveal new ways of understanding our modern world.
That's the premise behind the University of California (UC), Santa Cruz Center for Monster Studies, a new interdisciplinary research center that offers a variety of classes, events, and even exhibits exploring pop culture, religion, and politics through a scary lens.
"We think about monsters as a way to understand the culture — its anxieties and its desires, its hopes, its needs, and its fears," Renée Fox, an associate professor in the literature department at UC Santa Cruz and co-director of the center, told BestColleges.
"Monsters are a pretty universal phenomenon. You find monsters in every possible culture from every possible moment in time. They both reflect culture and they are a creative way for people to imagine the possibilities of culture."
Fox co-directs the center with Michael Chemers, a professor in the Department of Performance, Play & Design, who founded the program in 2020.
The center's origins can be traced back to Frankenstein — or rather, the 202nd anniversary of the publication of the novel by Mary Shelley. UC Santa Cruz's theater arts department was putting on a production of the classic thriller, and Chemers was asked to do something scholarly to support the show.
What was supposed to be a single panel turned into three panels, accompanied by an evening of movie-watching with scholarly commentary, all of which garnered positive feedback.
Chemers said the positive feedback motivated him to apply for seed funding from the university's Office of Research to develop the first-of-its-kind center.
'Monsters Are What Get Students Into Seats'
Chemers first dove into the study of monsters when he was teaching at Carnegie Mellon University in Pittsburgh and wanted to make his theater history class more exciting for students.
"The students just ate it up because students are crazy about monsters. And why wouldn't they be?" he said. "I began to realize that teaching monsters on their own is a virtue. When I taught it [at Carnegie Mellon], I had 25 students. And [at UC Santa Cruz] I have 400 students."
Chemers' single UC Santa Cruz course in monster studies has expanded to a variety of classes and seminars taught by him and Fox, such as "The Vampire in Literature and Pop Culture," and a super-popular "Harry Potter" course.
"(Chemers') class is the biggest class in the arts division. My class is the biggest class in the humanities division," Fox said. "Monsters are what get students into seats."
The center in just three years has also successfully hosted three Festival of Monsters, a public event and academic conference focused on the exploration of how monsters and tropes of monstrosity both preserve and conflict with forms of social and cultural injustice.
This year's festival, held from Oct. 13-15, brought over 200 people together to listen to panels, talk with authors, and explore the new exhibit Fox and Chemers co-curated at the Santa Cruz Museum of Art & History exploring women comic book artists featuring art from the collection of UC Santa Cruz alum Jim Gunderson.
"Werewolf Hunters, Jungle Queens, and Space Commandos: The Lost Worlds of Women Comics Artists" features comic books, original art, and drafts from Gunderson's collection, dating back to the 1930s.
The collection traces the way that women since the 1930s have used images of monsters to think about politics and gender, Fox said.
Monster studies is also expanding to other University of California institutions.
This year, the center received a grant to have a UC-wide monster studies working group, bringing faculty from across the state to Santa Cruz to give writing workshops and talks about the study of monsters.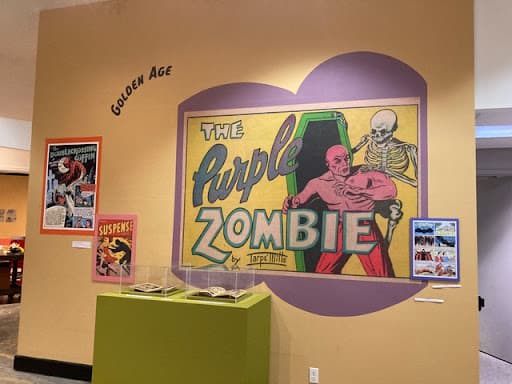 And Fox and Chemers are optimistic that UC Santa Cruz will soon offer a minor in monster studies.
"Monster studies really offers an open space to students, faculty members, [and] community members who don't feel like they fit in…," Fox said. "It's a space where people who think of themselves as different [and] excluded from the world…have a space to feel like they're among people they can talk to. That's been a really important part of creating (this) community."
Real-World Lessons
The surest sign of monster studies' success may not be the influx of UC Santa Cruz students signing up for classes as much as the fact that national politicians and pundits are taking punches at the field of study.
Florida Gov. Ron DeSantis is the most prominent politician to bash the study of monsters in college, often reverting to a belittling "zombie studies" moniker in his arguments against student loan forgiveness.
"We don't want students to go through, at taxpayer expense, and graduate with a degree in Zombie Studies," the presidential hopeful said during an event at the State College of Florida, Manatee-Sarasota, according to The New York Times.
Both Chemers and Fox refute the notion that studying zombies, and monsters more broadly, isn't valuable.
For instance, Fox finds that monster studies has become an effective way to teach engineering and science students, many of whom already love fantasy novels and cinema, to think more ethically.
Monster studies is a tremendously effective way of introducing students to larger discussions that they might not otherwise access, not only to foundational Western thinkers, but also non-Western-thinking traditions, Chemers added.
"There are monsters in every culture and from every time period," he said, "so it's a great way of expanding the reach and the impact of the work that we do with students."
"Were DeSantis to take 'zombie studies' seriously, he'd be learning about all sorts of things: Western culture and about the ways in which the European Empire has decimated various kinds of other cultures, Caribbean and African religions, international relations, consumer culture, and capitalism," Fox said.
"It's a valuable field for thinking about all sorts of things in the world. And the idea that it would be the bête noire of conservative public education made us think [that] monster studies and zombie studies is perhaps even more important than we thought it was."
---
First photo: Attendees at the Monsters Ball, part of the Festival of Monsters, including Michael Chemers (second to right) and Renée Fox (right)
Second photo: One exhibit of "Werewolf Hunters, Jungle Queens, and Space Commandos: The Lost Worlds of Women Comics Artists" at the Santa Cruz Museum of Art & History