Kevon Pascoe is an immigrant, first-generation college graduate, active-duty Marine, and KFC employee. With the help of the KFC Foundation, he's now also an MBA degree-holder from Western Governors University.
Photo courtesy of the KFC Foundation
---
Kevon Pascoe is the KFC Foundation's first graduate of its tuition-free program, which gives qualifying employees the chance to earn tuition-free degrees from Western Governors University.

While earning his master's degree, Pascoe worked part time at a KFC restaurant in North Carolina while being an active duty officer in the U.S. Marine Corps.

Pascoe wants to earn a second master's degree in management and leadership and wants to earn his doctorate next.
---
Kevon Pascoe — a part-time employee, active-duty U.S. Marine Corps logistics officer, and bachelor's degree-holder — just became the first graduate of KFC's free-tuition program for employees.
The KFC Foundation announced Oct. 27 that Pascoe earned his master's in business administration (MBA) online and tuition-free through KFC's partner Western Governors University.
Pascoe had earned his bachelor's degree at military college Norwich University in Vermont with honors before becoming a U.S. Marine Corps logistics officer, the foundation's press release said.
Learning about KFC's tuition-free college program was such a blessing, and it came at the right moment in my life, Pascoe told BestColleges.
Pascoe credits a friend's mom who is a general manager at a KFC restaurant for alerting him that KFC offered free college for employees. He moved fast, getting a part-time, night-shift job at a KFC in Jacksonville, North Carolina, in February 2023 and enrolling in classes almost immediately, he said.
KFC employing me and paying for this degree was the best support I could ever ask for, Pascoe told BestColleges. Additionally, my store manager was super supportive, and it was easy for me to request time off when I needed to attend to my studies more.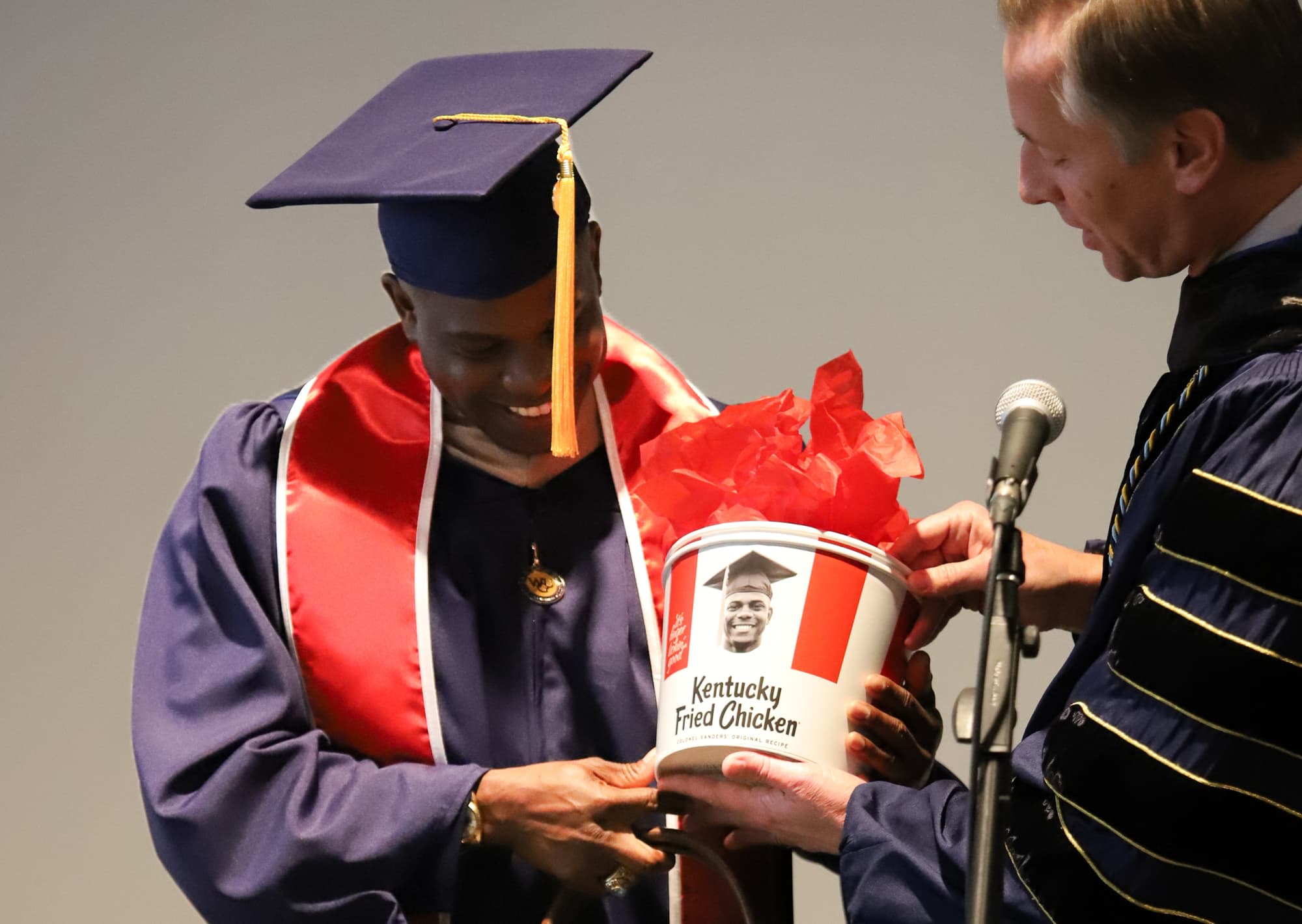 More KFC Foundation-Funded College Graduates on the Horizon
The KFC Foundation is the famous chicken restaurant chain's independent 501c3 wing that supports and serves KFC employees and the communities in which its restaurants operate.
It expects its college-tuition program to grow steadily and anticipates dozens more graduates achieving their goals in the upcoming year, Emma Horn, executive director of the KFC Foundation, told BestColleges.
Our partnership with Western Governors University offers a diverse range of degree options that allow KFC restaurant employees to pursue the career of their dreams at their own pace, Horn said.
As we move forward, we are actively exploring new ways to promote this program to both current and potential KFC restaurant employees, ensuring that more people can benefit from this invaluable opportunity and earn their degree for free.
The KFC Foundation also hosts other programs helping restaurant employees advance their lives through education, Horn said. They include programs to help employees earn their GED degrees, develop personal and professional skills, and earn up to $20,000 in scholarships for a two- or four-year college, trade school, or graduate school.
The foundation also supports employees during crises, helps them build emergency savings funds, and helps them give back to community nonprofits.
More Than a Master's Degree
Pascoe and his family immigrated to the U.S. from Kingston, Jamaica, in 2010 and lived in poverty as they established themselves in the country. The degree has equipped him to manage more people, equipment, and programs as he progresses through the military, he said.
But as a first-generation college graduate, his success in higher education has also shown his siblings what's possible.
I want to show them and those in a similar position that we were, that our upbringings don't define who we are and show them the heights of how far they can go, Pascoe said in the release.
Pascoe recommends people take advantage of the KFC Foundation's program or any other opportunities to further their education through an employer. In fact, he's starting another master's in management and leadership and wants to earn his doctorate next, according to the KFC Foundation.
I was able to move forward with and achieve my dream of obtaining a master's, Pascoe told BestColleges. Balancing it all was not easy and really came down to my drive of making my dream my reality.